Tripawds is a user-supported community. Thank you for your support!
Mom and I haven't updated our blog in awhile because she has been so busy with life.  No one else would take my dictation, so I have had to wait until she was available.  A couple of months ago I started walking funny, kind of like a crab.  I have seen these before down at the big water and have enjoyed their smells but not the way they move.   They must all be in pain to walk sideways and in a C fashion, I feel badly for them all!
More recently I have been unable to walk at all.  This has been an adjustment that I find disheartening!  I love to watch the world go by outside, bark at the other dogs, and make sure the stupid squirrel gets out of my yard, but I can't seem to do any of that.  Mom knows millions of words, but she doesn't seem to know what I have been trying to tell her.  I hurt!  I hurt, I hurt.  Can you fix me mom?  I want to go outside and play again, I want to see the world and check more stuff off of our bucket list.
Instead of fixing me, she has been taking me to see a man who pokes me with lots of needles!  I have proof of it right here:
If that wasn't enough, she got the guy to start popping my neck and back around!  I wasn't happy about that either.  I told mom the last time we were in the clinic that this was going to be the last time I let him do that to me FOR SURE.  It took mom and another bigger lady to hold me down, I was going to leave and go home, even if it meant I walked the whole way!!  Next, mom decides to teach me how to swim again… isn't she listening?  FIX ME PLEASE.
Instead I get this: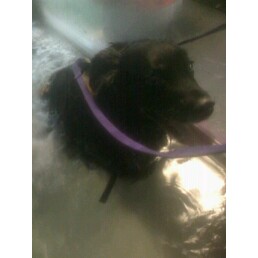 After the water stuff was over, I was so exhausted and in pain that I couldn't even make it to my bed.  Dad had to carry me into the house and I yelled at Mom and Dad when they tried to take off my harness and move me.  I just couldn't be touched right then.  I laid halfway on the bed and halfway on the floor for a couple of hours before Dad could finally get me all the way on the bed.  I was too tired and hurt too much to even drink water.  Mom put the little bowl up to my face and I managed to get my tongue in it from a lying down position.  It took a long time to fill me up that way.  Here is my picture of afterwards, proof positive Mom isn't listening!
Okay Mom, pay attention.  You used to be so good at listening.  Good girl, there you are.  Can you help me please?  Mom says I have an appointment with my friend Dr. Pam this morning and she will know what to do.  Mom can't go with me this morning because she has to work.  Dad will take me, but Mom has written down a to do list.  I don't think she understands I may not be up for traveling… I love Pam, but I didn't eat my breakfast and there was no pain pill to help take the edge off.  Fooey.  I would do anything for my Mom, anything.  Why is it she is asking so much from me?  I think I will yell at Dad about this, especially when he puts my harness on.    Wish me luck my friends, I think it is time for Mom to pay attention again.  She is so distracted!  I will let you know what Pam says.
Love to you all,
Sammy