Tripawds is a user-supported community. Thank you for your support!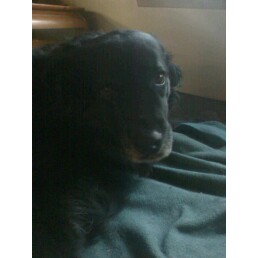 Why do you keep having Pam poke me mom?  I know there was a lump on my side, you kept rubbing it so of course I know.  I see you are smiling, I must have made you happy with my lumps, but why do you have my friend Pam poke them?  Does that make you happy?  I love you so much that it hurts me sometimes, like when I let Pam stick needles in me and be a good boy because I love you.  Love hurts, but you smile, and even though I hurt, it is worth it to see you smile.
Pam says the lump was "aspirated and no cancer cells present".  I made all my girls smile with that one!  I am now at home, cozy on my bed, with the a/c blaring the hot day away.  My job was tough today, needles, nails, and butt squeezing.  I think even though I love mom, I might be just a tad annoyed with her, so I will just nap this feeling away.  
  Mom, please tell everyone why you are happy, I am just too tired to say anything else… Love to my friends,  Sammy