Tripawds is a user-supported community. Thank you for your support!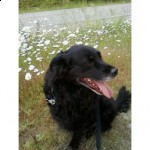 Well, (drum roll)  they took pictures of my back left leg that was bothering me and it turns out I just have an infection from a pressure point, NO CANCER ANYWHERE IN THE LEG!  Yay and hoorah for me!!  I am going to be on antibiotics for a couple of weeks then Mom is going to have to figure out how to wrap it, to keep me from pushing off on it and setting myself up for my pressure point owies.  Yay!
Bad news…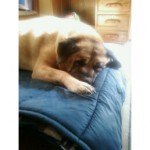 My brother has a traechial problem.  It is called Laryngeal Paralysis and the good news is it is in the beginning stages.  The bad news is his lungs are infected and he has lots of pills to take.  The way Pam described it is something in the body no longer works, (Mommy can't remember if it is muscles, or tendons, or what)  and it makes his windpipe not be able to open or close properly.  He brings in lots of extra stuff  (pollens and whatnot) trying to get air to his body, which create an infection in his lungs.  No wonder he has had no appetite, he hasn't wanted to play.  Mom says this is what killed our beloved Jazzy, her windpipe just shut one day, and she never came back from the vet.  BUT, with the medicine that Pam gave us, there is a good chance we can keep this problem from escalating, and when the pollens dissapear, it may go away on its own.  It won't reverse itself, but Pam is an amazing person with lots of knowledge, so I believe her when she says it can be controlled.  Titan's x-rays showed he doesn't have any arthritis even though he is 10 years old, and he has no cancer anywhere either!
So, lets celebrate Yay for no cancer!
Hugs for the good and not so good updates,
Sammy