Tripawds is a user-supported community. Thank you for your support!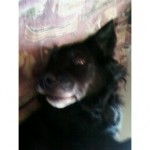 I have had leg issues lately.   I am laying here tonight in the cool evening, across from the fan and in total enjoyment of the Pacific NW weather.  It is 67 degrees and so perfect for a long haired boy like me.  For the last couple of weeks I have been licking my back left leg.  Mom has been worried and had my friend Pam look at it when we saw her at the PNW tripawds meet. 
She didn't see anything wrong, but the licking continues.  Monday, which is sometime that isn't now, Mom is going to drive me to see my friend Pam.  Mom also Pm'ed Pam tonight because my big brother Titan isn't eating well and getting sick when he does it.  He has lost energy and seems to breath hard for the little effort he puts out. 
So, Mom hopes that you all send the best energy in the world and the most sincere prayers that it is nothing, that I am still kicking cancers butt and my big brother is doing well too.  I seem to have been made to be the most perfect dog for her and she loves me as much as she loves herself, maybe more.  I don't want to let her down! 
Pray and think great thoughts,
Love, your friend Sammy