Tripawds is a user-supported community. Thank you for your support!
Me and my best friend Lincoln .. Such a great time, lots of people, lots of doggy friends, lots of food, and lots of fun!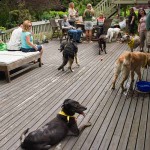 This semi_annual event was such a blast!  There were 10 to 15 dogs, lots of my favorite people, so much fun!  I was such a good boy, I didn't yell at anyone, I minded my manners just like mom said and I had so much fun.  There was my Auntie Deborah playing ball with my cousin Maya, there was my friend Pam rubbing me and checking my foot, there was my best friends mom Rhonda brushing my coat.   It was a very special "once in a lifetime day" and I loved every minute of it. 
I met new friends and new tripawds.   I was so happy to meet and see all the new folks, dogs and humans alike, mom wonders why we don't do this every weekend?  Mom thinks I am one of the most special dogs in the world, and it does her heart good to see me in my element.  I talked with my buddy Lincoln every time he laid down.  I hung out with his sister Quinlay, such a beautiful white soft and mellow girl.   I met my cousin Maya who yelled at me for a few minutes but then seemed to relax and enjoy the ride.  Life has been so sheltered for me since my amputation, that mom is thrilled to see me come out of my shell once again.  This was a great chance to hang with my fellow dog mates and talk and play.  I wish more than anything to do this alot more often!  I think I will add it to my bucket list…
Thanks everyone for making this so much fun, it was truly a special day.
Sammy