Tripawds is a user-supported community. Thank you for your support!
I want to start out by talking about my sister, she never came home from the vet.  Just another reason to not like vets in my opinion.  I left her there last Monday, and mom picked up her ashes today.  For two days after we left her, I slept, I mourned.  Now I am happy again, life goes on.  I miss her very much, but I understand that she is around, just in a different way.  It is making mom understand that is the hardest.  I wished we didn't have such a language barrier!   She told me she went to be with Jazz, but I know she is still with me in my heart.
My life has changed without Shy to balance out our pack.  My brother and I have been a little growly with each other, we are vying for mom's affection all over again.  My has been shutting that down everytime it happens, but it makes me sad because if my sister were here we wouldn't be doing it at all.  I guess it is normal to shuffle through all this stuff, see who gets to be the new "king" of the hill. 
 Mom cried when she opened the cardboard box and placed the wooden box on the mantle.  I sat back and wagged my tail, my ears back, head down, my eyes big with empathy.  Hello Shy, I say in my mind, welcome home.
As far as my ampuversary goes I have the best news!  When I came from seeing my friend Pam, my mom was over the top happy!  All x-rays show clean and clear lungs and organs, not mets!  Happy 10 months to me.  My mom needs me like never before, and our love is the biggest and brightest it has ever been.  I am so glad to have this time with her!  Happy ice cream day tomorrow, my actual ampuversary, happy looking forward to seeing my friends at the tripawd meet, happy having the here and now with no complications.  Happy me, happy mom, happy life 🙂
Love to you all,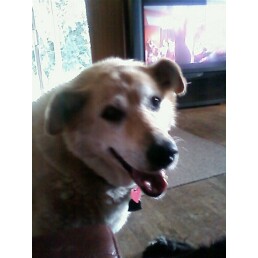 We miss you precious girl, but your love is always with us. Love, Mom