Tripawds is a user-supported community. Thank you for your support!
I got a package from my girl Gayle and her mom a few days ago.  My mom was paticularly attracted to these beautiful socks that she immediately put on.  They were made by my girls mom.  She said they were magical juju socks, boy was she right!  I went to see my friend Pam today, she was so awesome.  She gave me lots of loves and scrubbed my tummy just the way I like it.  I made happy noises and laid back and relaxed.  Pretty soon she asked me to go with her, "of course" I said and off we hopped.
Mom spent that time alone and waiting for me.  She said she was fine but I could feel her apprehension from down the hall.  Why should she be worried?  We have magical juju socks!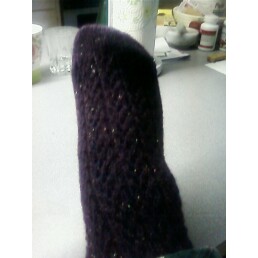 The wonderfully soft socks worked like a charm.  I came back and Pam followed soon after and the first news out of her mouth were "I have good news and more good news!"  No mets were on my lung x-rays ( my lungs were beautiful)  and my urinalysis came back with no worries about taking chemo.  My mom clapped her hands like she does when she is mega happy and bounced around!  We are kicking the crap out of cancer!! Team Sammy rocks 🙂 
I am one lucky guy, my mom and I are closer than ever, and I have a great new girl and friends in Tennessee.  I have a chance to see my buddy Lincoln in a couple of weeks and I am back to racing my brother up and down in the pasture.  I am so happy for this time in my life. 
All wiggles and Smiles,
Sammy