Tripawds is a user-supported community. Thank you for your support!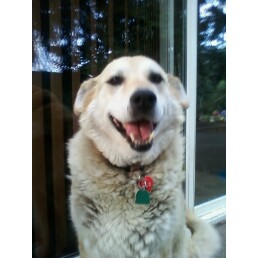 After coming from seeing Dr. Pam yesterday she gave me the green light to up Shy's meds.  I have struggled with Shy this morning, trying and trying to get her to take her medicine.  As I watch her constant pacing and her anxiety as she tears apart the bedding, I have come to the most heartbreaking realization.
I was going to give her another week, up her doses, keep trying.  But my girl seems to be telling me she doesn't want it this way.  Dementia is a bane, it is awful, it is stealing my precious puppy of 13 and 1/2 years.  I am going to call the vet in the morning, tomorrow is her last day. 
Please everyone picture her going safe to the otherside, where she will find her mom again, my Jazzy, and all of our family that has gone before.  Picture her surrounded in golden light, safe, loved, released from this confusion.  Pray for my special friend.
Thank you for helping,
Elizabeth