Tripawds is a user-supported community. Thank you for your support!
It is another wonderful Saturday with my family.  Mom just told me that on the 18th, (must be sometime in the future because it doesn't sound like that is today) we get to go see my friend Pam for a urine check to make sure the chemo isn't being to hard on me.  I have so much fun, I bounce around, I play keep away, and I even have hopes of having a girl friend!  I don't think there is anything to worry about.
My big sister Shy seems to be on the mend too.  She goes up and down, up and down, but she seems to be more up the last couple of days.  Here is a picture of her smiling at mom last night.   
My brother is being obnoxious, he stole her toy.  She tried to take it back and he growled at her!  Mommy took the toy from him and made him get on his bed for a time out.  She gave the toy to my sister and Shy paraded it around, VICTORY!  My brother Titan doesn't like to share.  When no one is looking he will gather up all the toys and put them on his bed, then dare anyone (but mom) to take them back.  Mom is always fair, so if she sees this, she will take them all and put them away and wait until another time to dole them out.
We did a little puppy rescuing, I thought for a minute we had another brother to deal with, but mom found him a great home.  He was a beagle that she found wandering the streets.  She placed ads and hung up found signs but no one came for him.  She took him to the vet and got his shots (compliments of my grandmother) and found him a great home in the country.  She named him Wilbur because he was so concerned looking.  I am glad he is gone because he wasn't neutered and he got to sit on the furniture!!! Even I, her favorite, don't get to do that.  Here is his picture.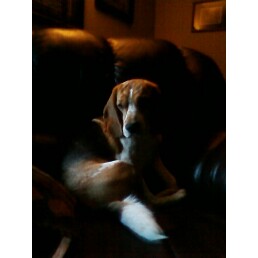 Being only 30 lbs mom felt it was okay I guess, whatever…
See you all again,
Love Sammy