Tripawds is a user-supported community. Thank you for your support!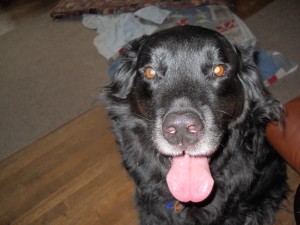 Hey Mom, what's up?  Are we going outside??  It is NOT raining,  it is NOT snowing… It is SUNNY, YAY!
I want to go play immediately, I am sick of sitting in the house and watching it turn from dark to light to dark while I sit here… Whats up?  Whatever are we going to do today, no pressure or anything, but if you don't start entertaining me RIGHT NOW with some outdoor fun I am going to talk your ear off… BARK!
My sister got some new pills that are helping her greatly, she has slowed down in the last couple of days from the pacing and the moving furniture.  She seems to get wired right after she takes them and paces for a little while, but she is now sleeping through the night and her appetite has improved.  Mom is very thankful for the special angel that helped her to make sure Shy is not left out.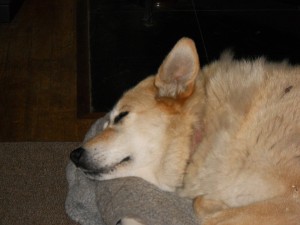 My sister is doing a lot of this, but she looks so peaceful and she isn't knocking stuff over, so that is okay with me!
I don't know what we have planned for today, so I am packing all of my favorite things.  I am growling to be let out, I keep my back to mom so she can't see what I'm up to, while  I wait by the sliding glass door.  My mom knows me pretty well so she is laughing as she plays along.  Swoosh, the door is open and I sprint out into the beautiful morning!!
Unbeknownst to my mommy, I have a mouth full of tennis balls, YAY!   I hear chuckling behind me as I get out into the lower pature.  UP into the air the balls go, and I race around picking up one after another and I toss them high!  I Love Spring!!  Weeeeeee! 
I hope you guys have as much fun as I am today, HAPPY sunny day to you all 🙂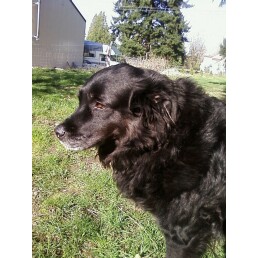 Sammy