Tripawds is a user-supported community. Thank you for your support!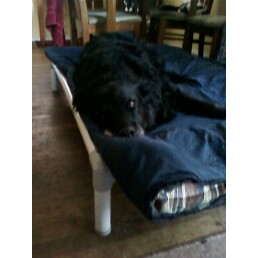 I have made my mom's day.  REALLY.  Big time… I am telling you, it was great!  My mom had found a lump above my amputation site and was trying not to panic.  She thought if she didn't say anything and didn't put any negative energy into it she had a better chance of protecting me.  She was doing the only thing she knows how to do, love and protect me at all costs!
We had a play date with my friend Pam today anyway, so mom just made sure she remembered exactly where it was and wanted Pam to poke me there, kind of like when she used to pinch me.  I expect that kind of wierd stuff from her in her greetings, so I was prepared.  She did her "Pam" stuff, she got lots of "cells" she said, and so once she got what she needed Pam was off and running. 
My mom was a nut this morning, she kept me in all night and wouldn't let me out for one last potty break before bed!  THEN, first thing, she told me to hold it while she grabbed a container and proceeded to follow me outside and stand super close to me while I was trying to decide where to use the restroom.  It was so odd… I finally couldn't stand it any more and thats when mom went completely off the deep end and stuck her hand and the container under me!  I tried to hop off in the middle of things which just made it a big peeing mess, all over mom, some in the container, and not at all where I was trying to mark my spot… ugh, what a wierdo!  Then she packaged it all up and took it with us to see Pam.  A girl in the front of Pam's place seemed to be happy to take the container… I don't understand any of it.
Pam came back and said everything looked great, no worries at all!  Mom turned around and clapped her hands and looked at me like she wanted to hug me, but I was too busy laying on the floor talking with one of the other girls to give her much attention.  So mom asked to hug Pam, and Pam is so cool of course she said yes.  I made my mom's day somehow… I am amazing that way 🙂  She said she wants to see me again in 3 months.
I am not sure if I heard this right but mom seems happy that I don't have to see Pam for 3 months.  I am cleared for my metronomics and everything is good.  I am sad to think that I won't be seeing Pam, but I am not sure how long 3 months is, so I am not going to worry about it right now.  Even my sister has good news, the fish oil seems to be helping with her dementia, so we are seeing improvements almost every day!  I don't tell everyone this, but I love my sister.  She is older, almost mom-like with me, and I need her here.  She makes me feel safe.
So, all in all, it was a great way to spend my day! 
Sammy