Tripawds is a user-supported community. Thank you for your support!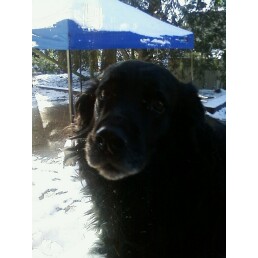 I was outside this snowy morning playing with my brother Titan and my sister Shy.  I started to wonder as I watched them do their thing, why doesn't their legs come off?  Why doesn't their butts blow up?  Is there something special about me?
I looked out past the fences to the other dogs in the neighborhood.  I have never compared myself to anyone before, it just never occurred to me.  But now that I see things that I see, why do I have to take so many more pills then my brother and sister?  Why does it take so much longer to get my dinner ready then anyone else's?
It isn't in my nature to judge anyone, we are all just dogs, we only smell a little differently from each other.  That being said, here is a picture of my brother and sister hanging out with me this morning.  Do you see what I see?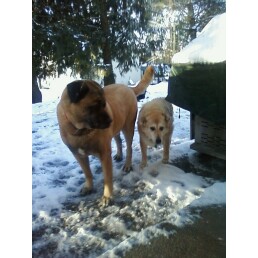 I see two dogs, (both adopted, not like me) both blondish red, both have all their legs, and neither one of their butts have exploded.  I think mom and I are going to have to have a talk.  Am I special?  My 6 month ampuversary is coming up, mom says, in just a couple of days.  Maybe, if I am special like I think maybe I am, something special will happen on that day… I don't want anything else blowing up or falling off, hopefully something special in a good way. 
Maybe mom and I can check something off our bucket list!  A non flying slow bird perhaps?  I don't know, what do you think?
Sammy