Tripawds is a user-supported community. Thank you for your support!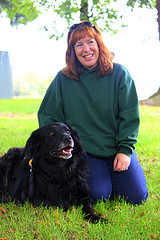 Mom and I were sitting down thinking about all the things we have done in our lives.  We talked about memorable events, like when we went camping for a few days down at the dam where mom tried to teach me to swim, and things like when we trained in agility together.  We decided that we need to make a list not just of things we have done as a family, but things we want to do.
So some of the things we are talking about are more "her" idea, some are more mine.  In no paticular order the list is as follows:
Bath complete with shave and nails —- her idea
use nose in search and rescue  –mine
have a play date with non threatening best friend— both of ours
go to a deserted beach with the family and run and run– mine
spend a day sleeping in together then have breakfast in bed, breakfast delivered– both of ours
chase slow moving non flying birds— mine
eat everything I want and not worry about diet– both of ours
get the stupid squirrel in our yard– mine
sit around on a perfectly sunny afternoon and lay out on the grass together, just her and me, no big brother for the day– ours
see the ocean, smell all the fishy smells and roll in them– mine
finally get to be on the outside of the fence when the neighbors dogs come to harrass us, (and let my big brother be with me)–mine
have a bunch of friends over to talk about me and pet me– ours (more mine than hers)
take a break from cancer and not think about it for awhile– hers
 see my eye brows turn grey.  Sounds like watching grass grow to me but okay. — hers
I can't think of anything else right now, but I am sure there is lots more to do. 
Sammy and Mom