Tripawds is a user-supported community. Thank you for your support!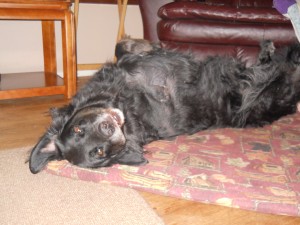 Well, I have to tell you it has been a trying day.  I am sprawled out and resting after my butt attacked me.  It was CRAZY!  For the last couple nights and a day I have had my nose almost glued to my butt.  Yesterday morning mom got through with work and finally decided to take a peek to see what all the fuss was about.  After poking around back there for a minute mom got kind of pale and went to the phone to call our friend Pam.  Pam told her to put hot wash cloths on my backside and use some hydrocortizone cream to help with the swelling.  ALL NIGHT LONG mom and I fought, I wanted to make it stop and mom wanted to make me stop.
Finally we got in the car with my sister Shy and went to see Pam and my Auntie Deborah.  Pam took me in back and shaved me down and did something REALLY not nice to me, but I have to admit after it was over I felt better.  She also took pictures of me but we didn't have a party.  Odd..
She brought me back in to my mom, Deborah, and my sister Shy.  Pam showed my mom what I was upset about.  My anal sac had ruptured and it was a gross big mess.  I am infected up into my tail and around a big area!  Apparently this could happen to some tripawds, they may not be able to go potty like they used to so they need some help from their friends like Pam.  Mom has to put hot compresses on it, soaked in epsome salt, and I don't have to do my metronomics for a couple of weeks while I am on antibiotics, yay 🙂
Then Pam went out to study the pictures while me and my crew hung out in the party room.  My mom was really nervous but Auntie Deb was right there to help keep her calm.  When Pam came back we got great news.  I could tell because mom hugged Auntie Deb and clapped her hands and smiled so big!  My lungs are clear, mets was a no show to this little get together!!!
Dr. Pam gave mom all kinds of stuff to read and stuff to give me and stuff to do for my backside.  They talked for awhile about my sister, which was nice because I got to relax and snooze by the door.  Then mom made an appointment for a couple of weeks to check in with my friends, and we said goodbye to everyone and headed out to go shopping for my butt stuff.  I am simply wiped out from all of the drama and as soon as I say what I have to say to you I am going to snooze the night away.
Sorry I didn't say a real goodbye my auntie, I was kind of distracted.  Thanks for always being around when my mom is freaking out, it helps to have help with her, kind of like a handler I guess.  I try, but she is pretty excitable!   We are all okay now, I think I will see if mom wants to take a nap with me.  Night night everyone.