Tripawds is a user-supported community. Thank you for your support!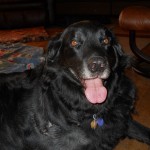 It was the BEST day!  We had our "usual" get together with my auntie Deborah, and my friend Pam.  Can't forget about the girls that hang out with Pam, they are so nice and they LOVE me.  My numbers were great and everything went very well.  Pam spent lots of time hanging out with my mom and Deborah and me and they talked of the future.  Pam was particularly wonderful, she laughed with me and rubbed my ears and fur.  At one point I was so enamored with her that I tried to push her over so I could crawl in her lap! 
It was a very upbeat day.  I loved seeing Deborah even if she was in her "office clothes" covered by a second layer which was a long jacket.  She didn't seem to mind me leaning up against her though and trying to squish her toes by sitting on them.  I was just "claiming" my friend.  I am sad these days are over, I love it when I have both my pals and my mom all talking about me and petting me.
When mom and Pam were talking a strange word came up.  I am not sure how it relates to me but my mom thinks it does.  She asked about getting me a bath, how much it would cost, could it be done without too much trauma, etc.  I have had one of these "baths" before, but only in the summer, behind the house and my mom used a hose.  It was messy, fast, and troubling to both of us.  My mom told me that she doesn't want me to go through my whole life without a proper "shower, shave, and shine".   Mom about choked on her coffee when she was told the price of this "bath" for a dog my size and with my type of coat. Her eyes got huge, but she says she got a little suprise money for christmas, so she wants to do something nice for me.  She thinks because I am an indoor only puppy now that I would appreciate a shorter coat and a squeaky clean moment in time.  I don't think so, but I am not sure yet if this is the same thing as what happens behind the house in the summer, so I will have to let you know.
Something else we are going to do that day is take more pictures.  Mom says we are going to do pills from now on, they are called metronomics.  But she wants to know what will be the best type, based on what the pictures say.  I can feel her nervousness about taking them.  I look up while we are talking with Pam and smile reasuringly at mom.  It will be okay mom, I will lean on you and make you feel okay.  No worries!  So we will start the pills in 3 weeks, after the fun from my party has worn off. 
I had the shakes yesterday afternoon when I got home and I am really weak this morning.  Mom had to help me stand up so I could have a little breakfast, then she helped me outside for my first potty break in about 20 hours.  I needed help getting back onto my bed.  Mom says this won't last much longer, then I will be back to my joyous, happy, bouncing, bubbly self.   I look at her with my sweet boy face on and thump my tail.  "I know mom", I say to her with my eyes, "I must have been fighting the good fight again, because I am exhausted.  Tomorrow is another day, I will be ready." I smile at mom and close my eyes.  "I love you mom", I tell her with my mind as I drift off.