Tripawds is a user-supported community. Thank you for your support!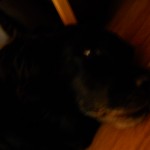 It has been a long holiday season.  As a family we drove to Sequim, Washington to go visit my Grandmother, her mother, my uncle Dean and aunt Adriene, and my cousins, as well as my moms aunt.  We had a great time, I played really well with my cousin Sky!  After a meal and some good pets from all we drove all the way home, it was a LONG time in the car. 
I have helped mom with decorating and being well behaved when we had friends over.  I have been the best boy a mom could have!  After my last chemo party it took a couple of days but I finally am ready to run and play again.  Now, today, it is my day.  Mom says it is a day to celebrate me because 4 months ago today I started this new part of my life, the part where I lost my leg but began my fight against cancer.
We are celebrating today with a movie and some good snuggle time.  Last night it snowed and froze to the ground so doing anything outside would be silly even though I have tons of energy and I am really interested in doing something fun.  I do love it when mom and I snuggle up on the floor in front of the couch and curl up together like little lima beans.  I make funny grunting noises  which sound a little bit like chewbacca from "star wars" and thump my tail almost non-stop.  Mom and I are going to squish together and she will wrap her arms around me and settle in for a good cry watching a doggy love story.  I wonder if we can find "my dog tulip" ? It looks like it would be perfect for this kind of morning.
Later on today mom plans on doing some indoor ball throwing with me, and some seek and find stuff.  I LOVE that!  It sounds like it is going to be a perfect  way to celebrate my special day.  Me and my mom, just being together on a peaceful winter day.