Tripawds is a user-supported community. Thank you for your support!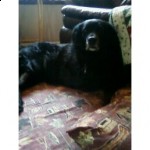 It wasn't really a party this time, or if it was only a couple of us showed up.  I went with Mom to see Doctor yesterday and it was just me, mom, and her.  I think I want to call her Pam, because that is what mom calls her.  I get confused when people have two names.  I know when mom calls me by my full name it means I am in trouble, so I don't like to do that to others unless they make me mad.  I looked around for JD's mom but I guess she couldn't make it.
So we were hanging out and talking and Pam was rubbing me all over.  It felt really good and I kept encouraging her with my tail wags.  I know Pam is kind of a funny lady, she has the wierdest ways of connecting with me,  so I was totally expecting her to pinch me.  I didn't make a peep  when she did because that is what she does when we hang out together.  At least she doesn't greet me like that other girl when we first got there!  Maybe it is like when people bow to each other, or kiss each other on the sides of their faces, maybe it is a greeting that is normal to the people where she comes from.  I don't know, but I really like her, so I just had to take it in stride.
Mom says she doesn't know if she is happy about this fourth party or not.  She said time is flying by and as much as she wants these parties to be done with, she feels they are important milestones.  She can't believe that there are only two more parties left.  I wonder if that is why JD's mom didn't come?  Are the parties getting boring, is that why we are going to stop having them?  I like this time with my friends.  I hope it isn't something that I am doing.
Mom says no, this means we are winning.  Every day that we are here together we are kicking the crap out of cancer.  She says every day is a victory and she is so glad to have this time with me.  She is so glad for my parties, she is so glad that she can physically do something to beat cancer.  She looks over at me today and smiles, she whispers "we win!" 
I don't feel very good today, that seems to happen once I get home.  I just want to sleep, I don't want to go outside with the my brother and sister in the cold.  Mom tries to feed me but I don't want anything.  I just want to be here, lying quietly beside her.  There is no place I would rather be.  Mom tries to make me understand that we are winning, but I don't know what the game is.  She says I am fighting cancer, that is why I am tired.  She tells me it won't be long at all before I am my happy bouncing self.  She says I am tired because I am beating it.  I don't know for sure what it is, but I do know that I am so happy to be here with her that I would do whatever it is I had to do to stay by her side.  So I guess I must really be winning, because I am so tired.  She tells me I am a good boy, I wag my tail and close my eyes.  Take that cancer!  I am a good boy and it won't be long before I am ready to fight again.