Tripawds is a user-supported community. Thank you for your support!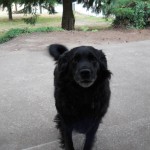 My brother and sister keep telling me that I was adopted just like them.  I know I am special and that I am mom's "bouncing ball of  of love and fluff" as she calls me and I am going to tell you how I know.
A long time ago I had a very bad thing happen.  I was with someone, I don't remember who, and I was being hit alot.  I guess that person didn't want me anymore because he drove out to this old country road with me.  He pulled up in his red pick up truck and stopped it on the side of a big hill by the old landfill.  He grabbed a hold of my neck and pulled me out of the vehicle and threw me over the hill.  I cried out as I fell, it was such a long way down.  I landed hard among the bushes and rocks at the bottom and rolled for a little ways.  I started crying out, screaming as loud as I could because it hurt me so much.
Mom happened to be driving up that old road that day, too.   It was very hot outside so she had her windows down, on the way home from work.  Hardly anyone ever came out here, but mom said it is a short cut for her.   She saw this black rug fly out of the guys hands and was irritated that someone else was throwing garbage out in this pretty country area.  She got closer as the man drove away and heard me crying through the window.  She pulled over and stopped her car.  She looked out over the hill and spotted my black fur under one of the bushes.  She said I was crying for all I was worth and could be heard over a long ways.
That was all it took.  Down the hill she came, it was very steep and she fell a couple of times too.  I was very scared as she got closer, I was trembling and drooling.  I kept her away from me by scuttling from bush to bush.  They were really big and kind of close together so it was hard for her to get to me.  Mom kept talking really softly to me, crooning little words of love.   I am a very stubborn puppy and I didn't know any people who were nice, so I kept her far away from me, dragging my leg that was hurt the whole way.  I was so thirsty and it was so hot, but I couldn't let her get to me, who knows what she wanted to do?  It was probably not a good thing. 
My mom is a very stubborn person.  I am too, but she really takes the cake.  Two hours went by, with her circling and circling me, and me edging past her every time.  It was a relief when she finally sighed and threw her hands in the air.  She told me one more time that it was going to be okay, then she hiked back up to her car and left.  Finally!  I looked around at this new place and picked a big bush to crawl under.  I was exhausted and really shakey.  I just needed to close my eyes for awhile and forget this whole day.
My ears perked up when I heard the same car pulling back onto the gravel on the side of the hill.  What?!  I heard not just her scrambling down the hill, but a dog too!  A big dog with satalite ears!  I heard mom say, "get the puppy Jazz" and this dog with huge ears and prancing feet nimbly and swiftly ran right to me.  I was cowering under the bush, how did this dog know where I was?  When she got to me I started crying, I thought she would tear me limb from limb, she was so big.  Instead, she stood over me until mom got down the hill and then she took her paw when mom walked up and flattened me to the ground.  Her paw stayed on my neck until mom reached under the bush and pulled me out.  I struggled mightily but mom is stubborn like I said, she wouldn't let go.  I was panicky when mom slipped an old collar and leash on me and I fought her non-stop. 
My mom tried to calm me, but who knew what had gone on in my life before?  She held me tight and wouldn't put me down for anything.  It was a huge struggle with her and I.  She had to get me, the big dog, and herself, up the hill which was very steep.  I was growling and crying and pushing against her with my feet the whole time.  I have never met anyone more determined then me until that moment.  We finally crawled to the top and she sat down still holding me.  Sweat was pouring off her and her heart was pounding, but she held me as gently as she could.  She kept saying over and over," it's alright puppy, it's going to be alright.  I got you.  I have you baby.  Mom has got you."  
She took me home and called the vet.  I drank water for an hour then we went to the vet who said I had some sore ribs and some contusions, but I was okay.  I was about four and a half to five and half months old.  Those couple of hours with her relaxed me and I started feeling more comfortable with her.  When we got back home she walked me around and then sat on the ground and held me.  I was sleepy from my hard life, and nestled in her arms.  She lightly rubbed the fur on my head and put her head down on mine.  She kissed me oh so softly right between the eyes and I looked deeply into her eyes.  She went to pet me again and I closed my eyes quickly and ducked my head.  I was so used to being hit.  She said your home now baby, you are safe. Mom has you.
That is how I know that I am not adopted, my mom has me, she had me.