Tripawds is a user-supported community. Thank you for your support!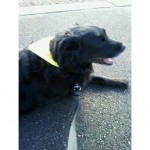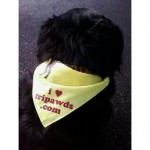 Oh my gosh, I am so excited!  Mom told me we were going somewhere fun today and we were going to see Doctor, JD's mom, Nancy and her crew with James, and LINCOLN and family!!  Yay!  From the moment she drug my leash and halter out I couldn't stop wagging!  I have had bathroom problems since first thing this morning but nothing was going to stop me from seeing my best friend Lincoln, my best friends MOM, and everyone else.
We got in the car and I sat up and wagged my tail the whole way down to where it was we were going.  Mom said it was a walk-a-thon for dogs with cancer just like me.  When we got there mom got my stuff out, got me all hooked up and got out the dozen donuts she brought and put the rest of my stuff in a big bag.  She said it is like a diaper bag, filled to the top with stuff I may need.
I looked across the parking lot and immediately saw James's mom Nancy.  She yelled hello to me and said she would be over in a minute.  She was getting chairs for some people.  I was so excited that I dragged mom over to the first booth we saw, lots and lots of dogs everywhere!  Somebody helped mom with the donuts then we stood in line for a while to get "signed up' mom said.  I kept looking back at mom and smiling because I was so happy to be out and so happy to see all the dogs.  People all over the place kept petting me and saying hello.  What a great day!
Mom looked around after a little while and realized that these weren't the people we wanted to see first.  The donuts had long been taken and eaten by these people so  she had to go empty handed to find our folks.  Around the bend I hopped and hopped and saw a man and a dog in the distance.  He smiled and said my name.  He knew me!  His wife came over and gave my mom a hug and then he and his dog came to say hello.  His dog was named Wyatt and he was loud and scary.  I had to start barking and growling immediately to scare this big boy away.   My mom said hello to Jim and Rene and petted the scary dog Wyatt while I hung back with Rene.  She was really nice and kind and had a soft voice that made me feel good.  We hung out for a while and met more people and said hello to James and his pack. 
All the sudden there was Lincoln!  I wagged my tail so hard and ran right over to sniff him and say hello to the coolest mom ever.  I like his mom so much that it was a toss up about who I was happier to see.  She petted me and loved me and made my day.  I kept going over to her throughout the afternoon for some loves and pets, because if something ever happened to my mom I wanted Lincolns mom to adopt me.  Lincoln and I got along great today, no growling and no mean looks.  I knew he was meant to be my best friend.  His dad even watched me for a little while since mom had to go get me signed in for sure.  I like their whole family!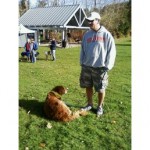 So JD's mom and Doctor finally came and Doctor brought that big puppy Julian again.  The weird thing about it is Julian was even BIGGER than last time!  It had only been a little while but he had grown by a whole bunch.  I started growling before he ever got up close to make SURE he knew who was the boss.  JD's mom is my family, so I was so glad to see her.  I was definitely distracted by all the dogs around me though.  I started barking and barking.  Mom thought that was odd and blamed it on me being over stimulated.  She kept talking to her friends and every once in a while she would tell me to knock it off.
What is up with that?  If I need something and you aren't giving it to me, what do I have to do to get your attention mom?!  After a while I just sat on the grassy hill and made my barks pitched to ear breaking screeching decimals.  Nothing.  Mom kept telling me to stop.  Eventually after a being there for awhile she gave up and told everyone we had to leave.  I had barked and barked but she wasn't going to give me what I wanted, so I made her take me home.
I said goodbye to my Auntie JD's mom, bye bye to my other mom Rhonda, and big sniffs and bye to Lincoln.  Mom said goodbye to everyone else and got my stuff.  I drug her all the way to the car and didn't need any help getting in.  I barked at her 3 more times on the way home, which I have never done, but she still didn't get the point.  I was FRUSTRATED!    She got us home not to long after and I hopped out and drug her to the door and into the house.  It became clear to her what I wanted when I went through the whole bowl of water and turned around and barked again for her to fill it.  "This is new," she said to me but grabbed the bowl and went and filled it back up.  After the next few minutes of drinking I started to relax.
Geez mom, why do you make me scream at you?  We could've stayed longer and met all the puppies coming back from the walk, but you wouldn't listen.  I had to yell at the top of my lungs at you.  Geez.  It was a good day though.  It was so nice to see everyone and to meet the people mom was really looking forward to meeting.  Invisible Jackers mom was there, she knew who I was without me ever having to tell her.  Very cool.  It was a very cool day.