Tripawds is a user-supported community. Thank you for your support!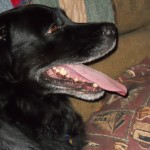 Dad took me to see my friends JD's mom, everyone in the office and Dr. Pam.  Dad and I sat in the waiting room long enough to say hi to several dogs coming through and to check my weight.  They say it is still good at 99 lbs but I should maybe lose a couple of pounds to keep me at my fighting weight.
JD's mom was there when we came in and I was thrilled to say hello.  She wore her "not office" clothes so I got to spend lots of good time rubbing up against her and leaning in for lots of loves.   Finally they came and asked us into the party room and took me off to see the picture machine.  I was pretty relaxed about the whole thing, I've had lots of pictures lately so it wasn't too scary at all.  After some more loves from Dad, another squeeze from JD's mom and a head rub from Doctor they went over the pictures.
Dad, JD's mom and Doctor were all so excited that it made me happy too.  "Perfect lungs", Doctor said to dad, my blood count is good so the party is on.  Mets is no where in sight!  Everyone is so glad that Mets didn't show up, I am glad too.  I was sprawled on the floor when Doctor leaned in for a pet and pinched me again!
What?!! Why?  I thought we were all having a great party!  Whatever.  She rubbed me and said she was sorry, so I forgave her like I always do.  She said it was for my tummy.  Huh? That lady bears watching…  She took my leash after a little while and off we went to go say hello to the girls in back.  A few minutes later and I was right back in the room with Dad and JD's mom and Doctor.  The party petered out a little while later.  I was pretty sleepy so I am glad that we made it a short visit.  Dad drove really fast home and beat mom by just a little bit.  He called her and was sooo excited that he invited her out to dinner to celebrate.  I HAVE DONE WELL!
I know I made my mom so happy because she bounced through the door like a little ball, all smiles and hugs and patting me.  She is so proud of me!  She told me how much she and dad love me.  Mom and dad went off for dinner and drinks and I layed down to take a nap.  It is hard being the super star that I am.  Plus my tummy wasn't  feeling so well anymore.   How does everybody know before I do that I will have an upset tummy?  Oh well.  My mom keeps telling me I am cancer free.  I am a super star.  I know that I am.