Tripawds is a user-supported community. Thank you for your support!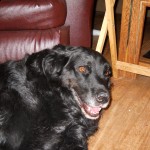 She is watching me WAY too closely!  Every time I breath, eat, sleep, or just stare out at the clouds in the sky she is watching me.  Why?  Why, I wonder.  She is looking at me now, so I turn around and smile at her.  Maybe this will help her calm down.  She keeps taking pictures of everything I do, and watches me all the time she is around me.  I pant harder as I think about it, which makes mom jump up and write something down in the book she is always scribbling in.
I heard mom on the phone using my name alot and talking about x-rays on the first of next month.  I wonder if it has to do with me?  They better not be thinking of taking another leg!  I better hide the rest of them under myself so she doesn't get any wacky ideas!  Forget that, lady.  I watch her as she walks around and  talks on the phone.  Something about looking for mets on the next chemo party. 
Yay, another party!  Who is Mets?  I wonder who else will be coming to my party?  Mom told me that dad is taking me this time, super YAY!  Dad never takes me places, so this should be fun.  I think mom should come for sure, she is always supposed to be where I am, everything is better when we are together.  I do wish she would stop staring at me so much.  I was breathing funny last night while I was lying by mom's side.  Her and dad looked at each other and then she ruffled the fur behind my ears for awhile.  It made me get sleepy and so I started dreaming of running.  I could hear mom and dad laughing a long way away, they said I must be dreaming of chasing the bunnies that live on our property.  My legs twitching and moving with me, I could feel them, which just enhanced the whole chase.  I was going to catch something for sure! 
 I never really catch anything, not in real life.  Mom says it is the newfoundland in me, we are programed to save stuff, not hunt stuff.  I have always been super fast, but when it comes down to it, I veer off at the last second because… well.. because I am the first one to tell on my brother if he is on a killing spree.   It isn't right to do that to our friends.   I bark loudly and anxiously until mom or dad comes out and makes him put the opossum down, or leave the raccoon alone.  It isn't fun in real life, only in dreams is it fun to be scary dog, chaser, catcher, hunter.  In real life stuff gets hurt, which makes me feel protective.  I don't like stuff getting hurt, it upsets me and I will tell!
Mom is scared, I feel it.  I feel protective of her.  She is hugging me lots and lots, and keeps giving me tons of kisses.  I have been getting anxious lately too.  About 1/2 hour before mom comes home dad tells her about how I will start barking and bugging him until he takes me outside to wait for mom.  He said it used to be cute, but now I am getting way to crazy about it.  Maybe I just need to be outside so I can celebrate when I see her car.  I rush toward her barking and bouncing!  Yay, you are home and you are safe mom!  Lots of love, lots of hugs, mom and I both feel better now.
Mom said that this isn't good for me, that she needs to wait a little while to greet me, until I calm down.  WHAT?!  That is crazy talk lady, your the one watching and watching me, your the scared one!  I am just making sure you are okay, plus you got me feeling a little scared too!  We need to be together!  Why are mom and dad always trying to analyze everything?
Mom told me starting tomorrow when she goes back to work, we will have a new game plan.  I don't even know what she is saying but I love her so I growl back and wag my tail.  I love you mom, I love you,  I say to her while my whole body gets wiggled around because of my fast moving tail.  I don't know what a game plan is but I love you, so okay.  You are talking to me, you have soft eyes mom, you are loving me I can feel it.  Okay, whatever you said sounds good.