Tripawds is a user-supported community. Thank you for your support!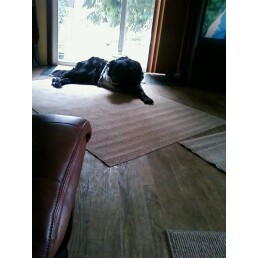 What a chilly morning!  Mom sent me and Shy out first thing for a potty break and there is frost under the tree's and dew on the ground in the sunny spots.  I find that I don't like walking on wet ground anymore, maybe because I am just not as sure about things as I used to be.  I used to bolt out the door and run around no matter what the weather was, but now, it is more about me testing the surfaces.
Mom says I am becoming a little spoiled.  If it rains, if it is windy, or if I don't feel like it I won't go outside unless mom comes with me.  I say it is a "Peas and Carrots" thing, but at 4:00 in the morning Mom can get a little cranky about it.  I just smile at her and wag my tail and wait until she sighs and puts her coat on and her slippers then out we go.  I don't know why she feels it is important to tell me about the "time", but I am trying hard to understand it anyway, it seems so important to her.
My brother Titan and sister Shy are snoozing inside along with me.  They are spoiled too I guess, even if they are adopted!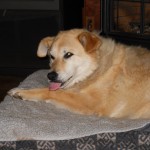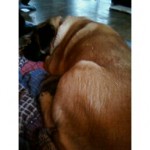 My sister Shy said something about me being adopted too and then stuck her tongue out at me, but I don't believe her.   She is just jealous, ha!  Shy and I still get along pretty good though.  Titan and I aren't like we used to be, we can't be outside together without mom and dad watching us.  Dad says Titan is jealous of me too, so mom goes way out of her way to give him and Shy extra loves.  I don't like that, all her loves should be for me.  I am her special one.  I am the one who gets soo excited to see her, pounding my tail and growling so loud.  I am the one who watches her wherever she goes because I am the one who loves her the most!  I am her special puppy!
So I guess it is just another day in a mom stay at home day.  We are all curled up on our beds or sprawled aross the floor snoozing away. Titan is snoring so loud that mom laughs a little and turns up the volume on the tv.   Mom is also on the computer and muttering about dishes and laundry that need to get done, and dad is out looking at his toys with the boys.  I love our world, I love my mom, I love my dad, and I even love my brother and sister.  My tummy isn't bad any more, and I ate all my breakfast!  These days are the best.