Tripawds is a user-supported community. Thank you for your support!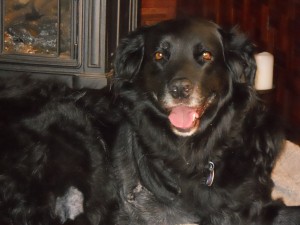 It was so cool!  Mom and I got in the car and headed off to another party day.  I was excited because last time we had a party I met Lincoln, I was so hoping he was going to be there today too.  I've been thinking about my buddy, I wonder if he smells as good as he did when I met him?  What a great dog.
We went for awhile in the car and I couldn't sit still because the thought of seeing my buddy had me so hopped up.  I whined and looked out the window and smelled the air all the way until we got to where we were going.  I was going to memorize all the smells so I would know where I was going next time, and maybe even find my way back.  My tail wagged non-stop!  Every time mom stopped the car when other cars stopped I wondered if we were there yet.  I wasn't going to relax until we got to where the party was.  How exciting!
   When mom finally did back the car in I thought I did recognize this place.  I don't think this is where we saw Lincoln, but I am sure I have been here before.   Mom got me out of the car and we sniffed and hopped all over as it started to come back to me.  This is where I first met my friends JD's mom and Dr. Pam!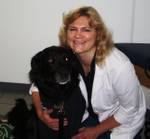 YAY!  Mom saw that it hit me where we were, when I got that sparkle in my eye and bum-rushed the front door.  Inside I said hi to the people at the desk and got on the scale with no problems at all.  One of the girls from the desk came over and scrubbed me and pulled a bunch of fur off me.  She told mom that I needed a "furminator".  Mom got a funny look on her face and said to her, "this isn't the first time I have heard that".  The girl said she had one right there and came over and brushed and brushed me.  Pretty soon there was a huge pile of my fur on the floor next to us.  So mom looked at me and said that she would be picking me up one real soon.  I don't think I need it though..
We went into the back room where we had the party last time and this new girl came in and greeted me badly.  Mom has always told me that I can't stick my nose in people's crotches, that it isn't nice, so why do these girls get away with this stuff?  It isn't nice either!  It was a great temp the lady said and she left the room.  Mom sat on the floor with me petting and holding my head.   The next thing I knew there was Dr. Pam!  Hi Dr.!  I said hello very happily to her and thumped my tail in greeting.  She got down on the floor with me and petted me all over.  I love parties.  A few minutes went by and Dr. Pam told me she was going to give me something for my upset tummy.  I was thinking that was funny because I felt just fine when she reached over and pinched me!  OW!  Super not cool Dr.  I told her with my yelp.  I gave her a couple of dirty looks but she rubbed my fur and told me she was sorry so I guess I have to let it go.  I was thinking for a minute that I should be a little more on the fence about her in case she turns into a vet…
JD's mom showed up, YAY again!  I was laying back on the floor with mom and Dr. and was very surprised to see her walk through the door.  I immediately got up and tried to rub myself all over her.  She said she is wearing her work clothes and can't get dog fur on her, so I made sure that I leaned against her hands only.  Every once in a while I leaned in for some real affection but mostly I kept my fur to myself.
The party was over pretty quickly even though Dr. said she was slowing down the speed in which I got the chemo to see if it helped with my tummy.  I swear I feel great so I don't know what that is all about but I was glad to see everyone in back too.   Dr. told my mom that I was very nice to everyone in back and she gave me extra treats!  I am very nice for sure.
Eventually JD's mom went away again and mom and I ended up saying bye to Dr. and headed back to the car.  I was asleep before I knew it and didn't wake up until mom opened my car door.  I am so glad to be home.  Now I am laying in the last of the sunshine mom says, it is supposed to rain for the next week.  So I lay here and watch dad out on the tractor.   I feel I am feeling just fine.