Tripawds is a user-supported community. Thank you for your support!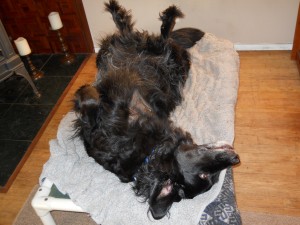 I am exhausted.. I was just at this place that had every kind of dog in the world.  There were HUGE ones my mom called Great Danes, there were small curly ones my mom called poodles, and every kind in between.  I didn't know there were so many kind of dogs out there!
My  mom took me to this place called a Tripawd meet.  The first person we saw was JD's mom, which is great because I really like her.  The next person was Dr. Pam, which I think she isn't a vet because this isn't where vets are, so Dr. must be her first name.  She came with this dog that looks just like my brother Titan.  Mom calls him a mastiff so this was a mastiff too, but he was very annoying, not like my brother.  He had puppy breath and kept looking at me so I growled pretty loudly and showed my teeth to show him who was boss.  That puppy got the idea but every once in a while he would forget and try and play with me so I kept having to remind him.
We walked into this great big area where tons and tons of dogs ran all about.  I met all kinds of them and mom and our friends did too.  Soon a lady came up with a curly dog mom called James, and several of his pack.  I was okay with all of this until something very special happened.  Out of this group of people and dogs hopped my new best friend!
He is large and red and shiny.  He smelled so good!   I couldn't take my eyes off him and where ever he went I wanted to follow.  His name is Lincoln and his mom was so nice too.  She petted me for along time and even helped get some of my fur to get off my butt.  It is good because I am inside all the time now, so down on my butt the fur is coming off all the time and mom doesn't have all day long to talk me into a good brushing.  I liked hanging out with her because she is the mom of my new best friend!  My mom even got a little jealous because I liked her so much.  I REALLY liked Lincoln though.  We are going to be friends forever, I just wish he wouldn't growl at me or move away every time I come over to him.  He doesn't make it easy to be best friends but I am sure we will be.  I LOVE the way he smells, and looks, and chases the ball.  I watched him all day.  He walks just like me.  Maybe that is why I like him so much?  I think it is the whole package.  There is someone like me who hops and smells good, and is a big strong boy,  just like me.
I thought the poodles were okay, I laid on the ground with them awhile because Lincoln was ignoring me, and they were pretty friendly.  Their mom was really cool and handled them all and is easy to talk to, mom said.   After the sky got darker and we were laying by the table and getting some great treats brought by my best friends mom and dad, people and dogs started leaving.  I guess it was time to go.  Lincoln didn't say goodbye which made me a little sad, but he was probably really tired, just like me.
My best friend Lincoln's mom, brought some wine which my mom loved made by the "three legged dog".  She was touched that JD's mom brought snacks and my best friends mom thought of dogs and people and brought treats for all.   Dr. Pam answered so many questions about dog health and stuff that I think she is very smart.  We were one of the last to leave, everyone just kind of drifted away.  I got in the car all by myself and immediately laid down to dream of this day.  My new best friend, another dog just like me..