Tripawds is a user-supported community. Thank you for your support!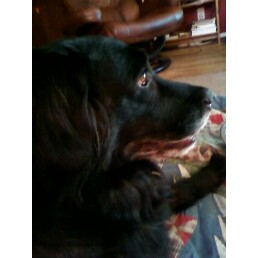 Today is just a day, not a chemo day, or an amputation day, or a day of recovery.  Today is just a day, and I am just a dog.  Today I got to stare sleepy eyed at mom while she did the dishes, threw some laundry in, and did some vacuuming.  I never have liked the vacuum, it is noisy, and in my opinion, possibly dangerous.  We did go to the stupid vet's office this morning, but after they shaved  me down and stole my leg anything else seems a little anti-climatic.  I easily handled the needle for the bloodwork today.  I am a veteran now!  We weren't there for more than a little bit, I met nice people in the waiting room, and then before you knew it I was right back outside getting in the car to get the heck out of there.
It is the kind of day that makes me sleepy.  Bright sun mixed with a clear sky to make the best days of all.  Soft warm sunshine falls half way across my bed, so some of my body is in shadow and some is being warmed by the light.  I could totally be at peace here, if it weren't for mom walking in and out carrying stuff to and from the laundry room.   She finished with the vacuuming, and all that is left is the window cleaning.  I like it best when she is done and sitting at the computer while I think of important things to say.  She is my instrument of communication and I have been mulling this around all afternoon.
I think I want to tell you that this is a special day because nothing special is going on.  It is just about me being Sammy.  Right at this moment I am not Sammy the Survivor, or Sammy the 3 legged dog.  I am definately not the "well how long did the vet give him" boy today, or the "Aw, I am sorry, I had a dog die of this.." dog, today I am just me, just dog, just breathing here at home, stretching and enjoying this shift of light, that look  of peaceful shadow that crosses the lawn out the window.  I am enjoying waking long enough to watch the squirrels fly from limb to limb,  as they move from tree to tree in our yard.
I like looking over and seeing my mom watching me.  I keep getting even sleepier as I look back.  Lets just stay in the here and now.  Right now, my world is perfect.