Tripawds is a user-supported community. Thank you for your support!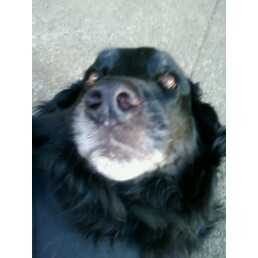 I got my breakfast and was snoozing pretty lightly when mom got my leash out along with my harness.  She told me that we were going for a ride but I was so busy contemplating "time" that I got tired and forgot.  I am a pretty smart cookie mom says, so I am sure I will figure it out soon. 
So it was a overcast morning and I and I was still sleepy from my breakfast but I decided a ride wouldn't be a bad way to start the day.  Mom bundled me up with my shirt and my harness and was preparing to lift me into the car when I decided to show her that I was pretty impressive and could  manage to hop in the backseat of the car without any help.  She was relieved and so proud of me!
Off we went, zipping in and out of traffic that was building up because everyone was on the way to the county fair.  It would be cool to be going to the fair but we have a "chemo time" to get to.  We left extra early to make sure we didn't miss this "time".  I am kind of getting it, maybe…
Anyway we showed up to a nice looking country kind of building with lots of animal smells.  I sat in the car for awhile with mom who was making calls.  We were waiting for someone, so mom kept giving me treats and pets to keep me entertained.  I didn't need it, but it was nice.  There was so many other dogs to look at and smells to smell out of the window that I was distracted.  Finally mom got me out and I was able to pee to my hearts content, and kept my nose to the ground, and walls, and fences while I figured out who was here and why.
We decided after watching the world go by to go ahead and go on in.  The lady at the desk asked mom to get a "weight" on me, so mom walked me over to the scale.  I did a faceplant before I figured out she wanted me to stop in the middle.  It made mom sad, but she encouraged me to try again.  Finally the numbers were read.  99 lbs.  Thats good right?
We sat for a minute before being escorted into a nice sized room.  The escort lady was pretty cool when she put a blanket down to make it more comfy for me.  This isn't so bad.   Then the escort lady stuck a stick in my butt!  I hate how some people greet me.  After a second the stick beeped and the lady petted me.  Whatever.   Mom sat on the floor with me while we waited.  She took off my halter and scratched my chin.  I do love her, I tell her that with my growls.  She's the best, she never greets me that way.
Another woman came through the door and her and mom talked while she looked me over.  I started to get a little suspicious that this might be a vet… I kept my opinion to myself, I am not sure yet .  In the middle of talking with mom yet another lady came in.   The new lady was very nice and sat on the floor with mom and me.  She petted my head and scratched my ears.  I liked her.  Eventually I put my head down in front of her and let her pet away.  It was kind of fun, like a party thrown just for me.  All the ladies took pictures and talked and tried to give me treats.  I got sleepy listening to them, but they seemed to be happy enough to keep petting me anyway.  The new lady was named JD's mom, and my mom was happy she was here.  She said it was nice that she gave us some of her time.   JD's mom gave me a whole bag of treats!  I didn't want them right then because even though I was sleepy, it could've still been a place with a vet, so you can't get too relaxed.  The first lady was very confident with me, and made me feel comfortable, so maybe she wasn't a vet, I don't know.
I didn't feel too nervous when I walked out with the first lady that mom called Dr. Pam, mom was pretty relaxed too.  It didn't take too long, just a bag and a tube.  Mom didn't go with me so she can only guess.  10 minutes later I was right back in moms arms.  Then we all sat around again and had a good time looking at and talking about me.  It was great!   Dr. Pam took pictures of JD's mom and me and my mom.  Then I got a picture with her.  Pretty soon I got tired all over again, so even though it was a party, it was  probably a good idea that I get back home for a nap.    I thanked Dr. Pam who fluffed the fur on my head, and then thanked JD's mom.  This had been fun after all.  "Chemo time" is one of the good ones.
I must remember this if mom says it's  "chemo time" again.