Tripawds is a user-supported community. Thank you for your support!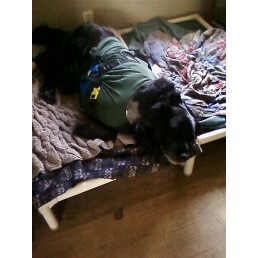 I was at the hospital in this terrible fog from the stuff they stuck in my IV.  I wouldn't eat because I didn't feel good so the people kept saying they would have to dope me up another way.  So then the people there came and stuck a pen thing in my IV.  I woke up several hours later.  I felt so funny, I just kept trying to talk with the people but they would pat my head and read my chart then move on.  I finally was able to fight off this lethargy that had taken me over.  This woman came to my cage and talked with me.  She said she had called my mom and told her everything went well.  I was relieved because my mom worries so much about me.  I swear I can feel her thinking about me from here, an hour away!  They told my mom I cried the whole time.  I am not a sissy, but maybe I did a little. 
      This nice lady told me that it was time to get up and try to walk.  Sure, I thought, no problem, I am feeling better now that I am off the sleeping stuff.  I went to try to walk and found out a horrible secret, someone stole my leg while I was sleeping!  I freaked out!  After several minutes of terror many nice people started to pet me I calmed down.  I guess I just have to do this a little differently. 
      The people told my mom when she called to check on me that I had successfully started getting around.  She was so excited, I could feel it.  It made me want to try harder.  That night I tried and tried and was doing pretty well.  After 4:00 my mom showed up on Tuesday to come get me.  She was nervous but was really good at hiding it.  I think maybe she should've been an actress, she could've gotten an Emmy for that one.  I was so glad to see her there, I don't really care if she was acting or not.  She got down at eye level with me and kissed me.  I love that the best, she knows exactly how much to hug and love me.  I am so glad to be going home.