Tripawds is a user-supported community. Thank you for your support!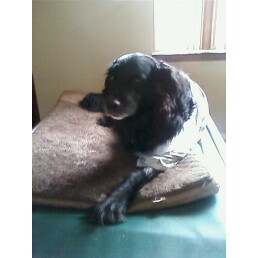 It feels so good to be home!  Mom and Dad are spoiling me rotten.  All I have to do is whine a little and mom comes over and rubs my back, gives me treats, and kisses me so nicely on my head.  Dad keeps sneaking me food from his plate.  Mom knows but she just smiles at me.  He would never do that before, I would even get in trouble if I begged for some of his food.
     I am sooo hungry.  I can eat a horse right now, just about anything sounds good.  I ate pizza, I ate cheese, I ate all my own food and most of what mom and dad had on their plates.  It was a long time at the hospital and I didn't eat the day before either.  I was in more pain then I was going to tell mom and dad about. 
     I have this weird patch on my back leg that keeps itching me, but mom says to leave it alone cause it has medicine that helps keep the pain away.  I can't help but lick at it though, it is bothering me.  When I came home last night it was raining so hard that I didn't want to be outside at all.  Even to go potty.  Mom and Dad stood out in the rain with me, covering me with the umbrella while they got soaked.  But would I go potty?  Heck no, I just wanted in the house!  I cried a little off and on last night because I was so uncomfortable.  The medicine makes me pretty loopy, something called Fentynal patch?  Wow, I could cross my eyes without even trying.
     After 2 days I finally got to take the patch off.  Whew, what a relief.  I licked and licked the area on my back leg where the patch was.  Mom got a wash cloth and it was warm and wet.  She helped to clean it up but I needed to make sure it was clean myself.  Mom finally had to tell me to stop messing with it, I think maybe she thought I was going to lick my way to the center, like a tootsie pop!
     I can get outside pretty good now, I can go pee, but I am seriously not ready to do the other yet.  Mom keeps looking up stuff on-line, and calling the vets office to make sure I am not going to blow up or something.  It had been 5 days since I did that, but I am tougher than I look. 
     One of moms favorite movies is Forrest Gump.  She likes it because it is about somebody using 100% of what they got.  She says it is a great lesson for everyone.   I like it because of my favorite line, "Jenny and me, we're like peas and carrots.  We're meant to be together."  I feel that way about mom and me.  Peas and carrots!  Mom and I are so much the same.  We both like to smile, we both laugh out loud, and like to greet new people in a good way.  We also both like hugs and kisses.  We both don't like Dr.'s.  We both are happy most all of the time.
     Something funny is happening to my shoulder.  Not funny ha ha, more funny strange.  It keeps twitching and hurting me.  That patch has been off for hours and mom gave me new stuff for pain but it isn't helping.  I start to cry which freaks my mom out.  Just a little howl.  It is getting towards nightfall and there is no one my mom can call to get help.  The pain is getting more intense, coming every half hour or so.  I start to scream because it hurts more than anyone in the world has ever hurt.  I scooch up to mom who has put her sleeping bag on the floor by me.  I lean up against her, my back to her chest, and throw my head back on her shoulder and shake and howl.  After each time it happens my heart races and I breath real hard for awhile.  Mom holds me close and pets me.  She cries too, but really quietly, not like me.  Dad comes out of the bedroom to help when I get really loud.  He holds me and tells me it will be okay. 
     It goes on all night, and I am so tense now because I know it will keep coming back.  Mom gets on the phone first thing in the morning and calls and calls.  She is white faced and shakey too.  I am sorry to scare her, I keep wagging my tail when I am not in the middle of it, and I put my ears back.  I try and tell her I am sorry for the fuss.  Mom is not mad at me though, thank goodness.  She is mad at someone though.  It has been days since either of us got any sleep, and it just got worse with this insane pain that sneaks up out of nowhere. 
     Finally while she is crying on the phone she gets a hold of a really nice person.  I hear her name Dr. Pam.  Oh no, not another Dr. !  Mom tells me not to worry, when she comes home she will bring me some good stuff that will make this go away. At least I don't have to go see this doctor.  I spend several hours by myself before dad comes back.  We wait and wait and dad calls mom and tells her to hurry, that I keep having bad ones.  Mom eventually rushes through the door and stuffs something into some really good cheese, and down the hatch it goes.  I keep being in pain all through the night, but it gets less and less.  The next day is less even then before.  The day after that I don't have it anymore.  I am feeling so much better!  Finally mom and I crash out, sleep, sleep, sleep.  It feels good, like peas and carrots.