Tripawds is a user-supported community. Thank you for your support!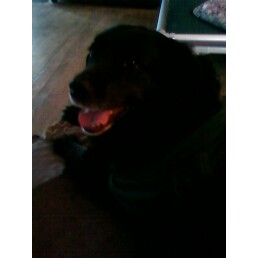 I was limping for about a week.  My mom called my vet who told her to keep me off my feet for a few days and see if it improves.  I am glad I didn't have to go in, I don't like going to the vets office at all!  They make me stand on this machine that tells them my weight then the get really rude and put a stick in my butt.  After a couple of minutes of this awful behavior they tell my mom that the temperature is normal.  What is up with that?  Is there not a more "humane" way of telling my mom about my temperature?  I do hate that place.  Then, to top it off, they take me away from mom and into this back room to steal my nails off my feet!  It takes three of them to do this because I put up a pretty good fight.  They put this thing over my mouth that keeps me from being able to defend myself properly and go to town.  Did I mention I hate that place?  I wouldn't really want to hurt anyone but they do tempt me sometimes…
       So a few days later I was still limping.  I  couldn't help it, my ankle was so sore.  My mom finally had to take me into the dreaded vets office.  The morning of the visit my mom didn't give me any breakfast but dropped me off at the vets on an empty stomach.  She said they were going to make me sleepy to take some pictures.  I can't have food in my stomach because I can choke if I am too sleepy.  What?  I would always eat my food first before going to sleep, she is a weirdo but I do love her so…
     A few hours later they called mom to come and get me.  I was soo happy to see her!  Get me out of this place mom, please hurry!! I hate it here… The vet was showing mom the pictures and I have to say they look nothing like me.  Mom and the vet were taking way too much time in my opinion to look at them.  Then mom started to cry.  I started to cry too because she never did that before at the vets.  The vet lady gave mom a number for a 'specialist' and mom and I finally left the office and got in the car.  Thank God!  She kept crying all the way home, so I tried to help her by talking to her from the back seat.  It's okay mom, it's okay.. Can you hurry home mom, I am hungry!  I don't mean to interupt while you are on the phone, but come on.. it has been all night and half of today and did I say I was hungry??  Hello??
     After a couple of days I was back in the car on the way to the 'specialist'.  I wasn't worried until we got there and went inside.  I could tell right way this was another vet!  Crap, I hate vets offices.  Mom and I went in the room with a guy vet and he did the strangest things.  He moved me this way and that way.  He bent my paw until I got pretty tense, it was hurting but I wasn't going to tell this guy that.  What if he found my weak spot and tried to attack me?  I was going to stay on guard for sure… ya never know… Then he took me away from mom and into a back room where I got sleepy all over again.  What is going on?!  Mom waited outside, she was pretty cool about not leaving me in this strange place.  I could smell her down the hall, I have the best sense of smell.  I would know it if she left the building!
     I was so sleepy when mom and the new guy and I went back into the room.  They looked at the pictures that he took while I was snoozing, again none of them looked anything like me I have to say.  He said he can't confirm 100% that it is cancer but it couldn't be anything else.  I could feel mom, she seemed full of great emotion but she wasn't showing any of it.  But I know, because I know her.  I started to whine, "lets get out of here mom, you must not like vets either".   We left the room and went and stood in front of the lady at the desk.  Mom and her talked about numbers and costs.  I have no idea what that meant but she she shocked me when she said to the lady I was to come back as soon as possible.  I can't believe mom stood at the counter and made another appointment for me!  We both just agreed we hate vets!